PD Dr. Michael Rießler
Head of the Freiburg Research Group in Saami Studies
Freiburg Research Group in Saami Studies
Webpage at University of Eastern Finland
Contact
Office hours by appointment
michael.riessler@skandinavistik.uni-freiburg.de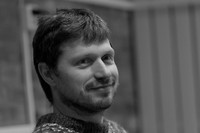 Photo: Rolf Arvola (2011)
CV
| | |
| --- | --- |
| currently | Senior Researcher in the project The Changing Environment of the North at University of Eastern Finland, Joensuu |
| 2017–2019 | Acting professor of General Linguistics in the Faculty for Linguistics and Literary Sciences, University of Bielefeld |
| 2015 | Habilitation, University of Turku, Venia Legendi in General and Finno-Ugric Linguistics |
| 2017 | Fellow at FRIAS |
| 2016 | Researcher at The Erik Castrén Institute of International Law and Human Rights, University of Helsinki |
| 2016 | Visiting scholar at École normale supérieure, Paris |
| 2016 | Researcher at Department of Biology, University of Turku |
| 2014-2016 | Researcher at the Department of Scandinavian Studies |
| 2015 | Habilitation, University of Helsinki, Venia Legendi in Finno-Ugrian Studies |
| 2014 | Researcher at USIAS and FRIAS |
| 2013-2014 | Researcher at the Department of Scandinavian Studies |
| since 2013 | Head of the Freiburg Research Group in Saami Studies |
| since 2013 | Academic member of The Hermann Paul Centre for Linguistics |
| 2013 | Project manager at Østsamisk museum in Neiden (Norway) |
| 2012-2013 | Researcher at the Department of Scandinavian Studies |
| 2011-2012 | Researcher at Østsamisk museum in Neiden (Norway) |
| since 2011 | Affiliated Postdoc at the Herman Paul School of Linguistics |
| 2011 | Researcher at the Centre for Sámi language technology (Giellatekno), UiT - Norway's Arctic University |
| 2011 | PhD in General Linguistics, Universität Leipzig |
| 2008-2011 | Assistant professor (non-tenured) at the Department of Scandinavian Studies |
| 2005-2008 | Researcher at the Department of Northern European Studies, Humboldt-Universität zu Berlin |
| 2002-2005 | Graduate studies in General Linguistics at Universität Leipzig |
| 2002 | MA in Northern European Studies, European Ethnology and Bulgarian at Humboldt-Universität zu Berlin |
Teaching
(for a complete list of taught courses, see Michael Rießler – Teaching
WiSe 2015/16
Research
(see in more detail Michael Rießler – Research and Freiburg Research Group in Saami Studies)
Thematic
Language Documentation, Language Technology, Multilingualism, Sociolinguistics, Typology
Geographic area
Northern Europe (North Germanic, Saamic, Permic, Samoyedic)
Links
ResearcherID (Thomson Reuters) for Michael Rießlers
Google Scholar profile for Michael Rießler
ResearchGate profile for Michael Rießler
Academia profile for Michael Rießler
Publications
(for a complete list, see Michael Rießler – Publications)
To appear
Michael Rießler. "Kildin Saami". In: Oxford Guide to the Uralic Languages, ed. by Marianne Bakró-Nagy, Johanna Laakso and Elena Skribnik. Oxford: OUP.
2017 (in print)
2017
Michael Rießler, Joshua Wilbur: Documenting endangered oral histories of the Arctic: A proposed symbiosis for language documentation and oral history research, illustrated by Saami and Komi examples. In: Oral history meets linguistics, ed. by Erich Kasten, Katja Roller, and Joshua Wilbur. Fürstenberg: Kulturstiftung Sibirien. 31-64.
Ciprian Gerstenberger, Niko Partanen, Michael Rießler, Joshua Wilbur. Instant annotations - Applying NLP methods to the annotation of spoken language documentation corpora. In: Proceedings of the 3rd International Workshop on Computational Linguistics for Uralic languages, ed. by Tommi A. Pirinen, Michael Rießler, Trond Trosterud, Francis M. Tyers. (=ACL Anthology). Baltimore, Maryland, USA: Association for Computational Linguistics, 25-36.
2016
Presentations
(for a complete list, see Michael Rießler – Presentations
Miscellaneous
Michael Rießler Mercator Expert in the Spotlight July/August 2016.
Manuscript of a teaching book for Skolt Saami (in Norwegian).
Skolt Saami linguistic landscapes in Norway A contribution the the discussion about the use of Skolt Saami on road signs and maps in Norwan.
Kildin Saami Alphabet The document includes data on the letter inventory and sort order for Kildin Saami.
Ter Saami Alphabet The document includes data on the letter inventory and sort order for Ter Saami