Norway approves funding for a research project on revitalization of Skolt Saami in Norway and Russia
Nuõrttsääˊmkiõll paˊjjel raaji (Skolt Saami Language across Borders)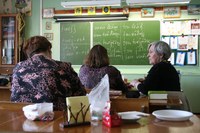 Language course in Tuloma in May 2012; the teacher was Zoja Nosova (on the left)
Skolt Saami is an indigenous language of the Kola Peninsula in northwestern Russia as well as the bordering areas in Norway and Finland. Today, only around 300-400 people speak the language. Nearly all speakers live in Finland where Skolt Saami has been officially protected as a minority language and has been the focus of revitalization projects since the 1970s. On the other hand, the language has all but disappeared in the traditional Skolt Saami areas in Norway and Russia.
The current revitalization project is being funded by the Norwegian Ministry of Government Administration, Reform and Church Affairs with 700,000 NOK. The project's goals include multilingual interactive teaching materials for Skolt Saami students in all three countries as well as the completion of experimental language courses in Norway and Russia. The project is being carried out in collaboration between the Skolt Saami Museum in Neiden, the Department for Skandinavian Studies at the University of Freiburg as well as the Center for Saami Language Technology (Giellatekno) at the University of Tromsø. Honna Havas (Neiden) und Michael Rießler (Freiburg) are leading the project.
The Freiburg portion of the project is a part of the Freiburg Research Group in Saami Studies. The project will commence in May 2013 and will initially last for 1 year.
A link to a preliminary version of the interactive teaching materials: Oahpa!-nuõrti.
Contact: Michael Rießler